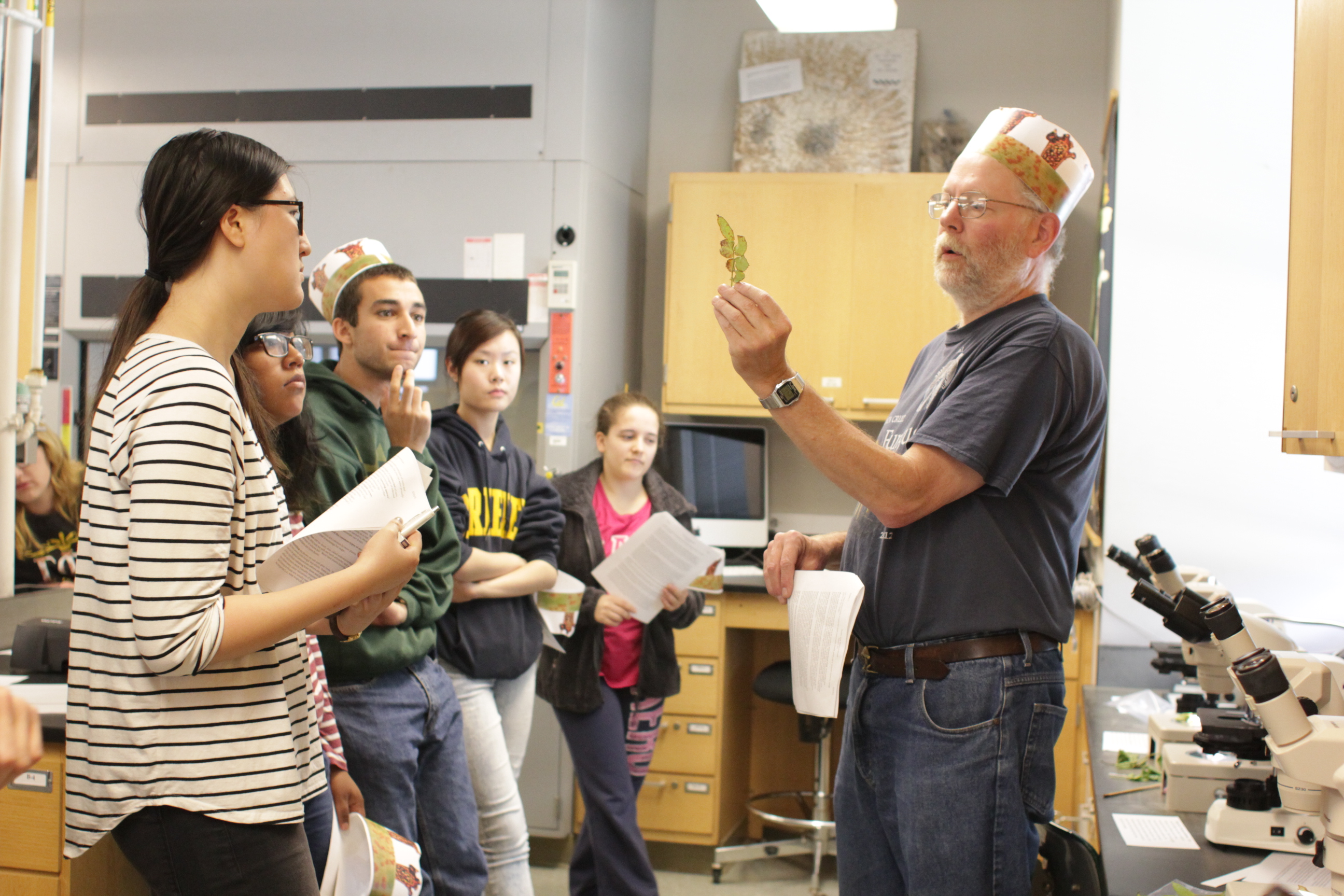 About the Teaching Lab
The Rausser  College of Natural Resources Teaching Lab provides support for laboratory courses offered by the Departments of Plant and Microbial Biology as well as Nutritional Sciences and Toxicology, and can be found on the second floor of the Genetics and Plant Biology Building. Lab staff oversee four instructional labs that accommodate 24 students each.
Teaching Lab staff provide technical expertise and consultation to aid instructors in course planning, development, and execution. Among the services provided are material preparation, lab setup, chemical and biological waste disposal, and the purchasing of supplies and equipment. The staff prepares various organisms, cultures, and growth media necessary for course instruction. 
The RCNR Teaching Lab houses the Microgarden, a living culture collection of algal and fungal specimens used in teaching and research at UC Berkeley. The space also includes fixed 4C, 37C, and a variable set-point walk-in environmental chamber for experiments and materials storage. The facility has access to autoclaves, -20C, and -80C freezers for material preparation and storage.
Teaching Lab Staff
The Teaching Lab staff assists with all laboratories taught in the Genetics and Plant Biology Building. Contact the teaching lab staff to learn more: Irania Alarcon (team lead), Jules Cho and Felice Lugos.
Inquiries can be sent to rcnrteachinglab@berkeley.edu.
Equipment Available:
Compound Microscopes
Dissecting Scopes + Light Sources
Gel Electrophoresis Equipment
Pipetman (20ul, 200ul, 1000ul)
Centrifuges
Spec 20- Spectrophotometers
Transilluminator
Hot Plates
Water Bath Shakers
Plant Growth Carts
Incubators
Vortex Mixers
Biosafety Cabinets
PPE: Lab Coats, Safety Glasses, Disposable Gloves