Associate Professor
Education
Ph.D. Evolutionary Biology and Ecology, Indiana University, Bloomington 2009
B.S. Biological Sciences, Stanford University, 2001
Research Interests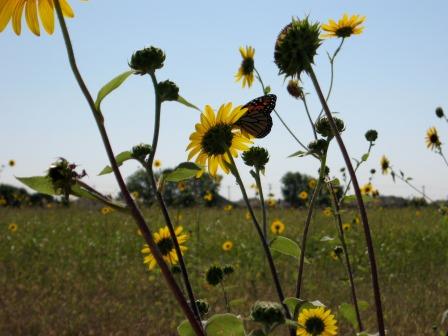 The Blackman Lab studies how plants adapt to local environments and how crops were domesticated, with an emphasis on studying how these evolutionary processes alter plant-environment interactions during development.
My research focuses on the diversification in the phenotypic plasticity of developmental timing. Because environments fluctuate daily and seasonally, the onsets of major life history events--e.g. germination, flowering, hibernation--are responses partly or wholly cued by environmental signals. These responses are often the products of adaptive evolution because as species expand their ranges, colonize new environments, or adjust to historical and recent anthropogenic changes, the combination of environmental cues predictive for the optimal timing of developmental transitions may change dramatically. In my lab, we seek to address three major questions: 1) how do organisms integrate environmental cues to trigger developmental transitions, 2) through what mechanisms does this plasticity evolve and 3) what natural or anthropogenic factors have driven or maintain this variation?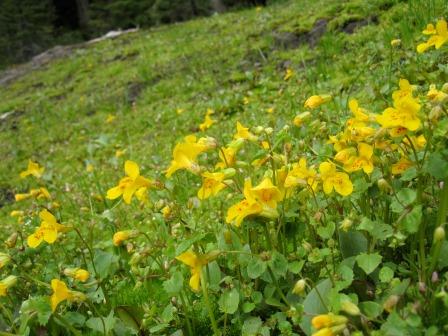 By connecting genetic variation to phenotypes to survival and reproduction, my lab's work aims to understand all levels of the evolutionary process, and consequently our studies range from molecular genetics to population and quantitative genomics to ecological studies in natural environments. We work predominantly in two systems, sunflowers and monkeyflowers, that exhibit tremendous variation across broad geographic transects in how flowering responds to photoperiod and other environmental cues. Characterizing the genetic architecture and ecological pressures involved in adaptation of these species to diverse environments will allow us to develop improved functional models that predict how species may adapt to future global change. In sunflower, my work also examines the genetics of how flowering time and other traits evolved during its domestication because we seek to understand the dynamics of how novel and complex trait syndromes evolve.
Kooyers NJ, Donofrio A, Blackman BK, Holeski L. The genetic architecture of plant defense tradeoffs in a common monkeyflower. Journal of Heredity (in press).
Ding B, Patterson EL, Holalu SV, Li J, Johnson GA, Stanley LE, Greenlee AB, Peng F, Bradshaw HD, Blackman BK, Yuan Y-W. Two MYB proteins in a self-organizing activator-inhibitor system produce spotted pigmentation patterns. Current Biology 30: 802-814 (2020). 
Gaudinier A and Blackman BK. Evolutionary processes from the perspective of flowering time diversity. New Phytologist 225: 1883-1898 (2020). 
Kooyers NJ, Colicchio JM, Greenlee AB, Patterson EL, Handloser NT, Blackman BK. Lagging adaptation to climate change supersedes local adaptation to herbivory in an annual monkeyflower. American Naturalist 194: 541-557 (2019). 
Flagel L, Blackman BK, Fishman L, Monnahan PJ, Sweigart A, Kelly JK. GOOGA: A platform to synthesize mapping experiments and identify genomic structural diversity. PLoS Computational Biology 15: e1006949 (2019).
Wales N, Akman M, Watson R, Sánchez Barreiro F, Smith BD, Gremillion KJ, Gilbert MTP, Blackman BK. Ancient DNA reveals the timing and persistence of organellar genetic bottlenecks over 3000 years of sunflower domestication and improvement. Evolutionary Applications 12: 38-53 (2019).
Kooyers NJ, James B, Blackman BK. Competition drives trait evolution and character displacement between Mimulus species along an environmental gradient. Evolution 71: 1205-1221 (2017).
Kooyers NJ, Blackman BK, Holeski LM. Optimal defense theory explains deviations from Latitudinal Herbivory Defense Hypothesis. Ecology 98: 1036-1048 (2017).
Blackman BK. Changing genes for changing seasons: natural variation in the plasticity of flowering time. Plant Physiology 173: 16-26 (2017).
Ferris KG, Barnett LL, Blackman BK, Willis JH. The genetic architecture of local adaptation and reproductive isolation under gene flow in the Mimulus guttatus species complex. Molecular Ecology 26: 208-224 (2017).
Atamian H, Creux N, Brown EA, Garner AG, Blackman BK, Harmer SL. Circadian regulation of sunflower heliotropism, floral orientation, and pollinator visits. Science 353: 587-590 (2016).
Ferris KG, Rushton T, Greenlee AB, Toll K, Blackman BK and Willis JH. Leaf shape evolution has a similar genetic architecture in three edaphic specialists within the Mimulus guttatus species complex. Annals of Botany 116: 213-223 (2015).
Friedman J, Twyford A, Willis JH, Blackman BK. The extent and genetic basis of phenotypic divergence in life history traits in Mimulus guttatus. Molecular Ecology 24: 111-122 (2015).
Kooyers NJ, Greenlee AB, Colicchio JM, Oh M, and Blackman BK. Replicate altitudinal clines reveal evolutionary flexibility underlies adaptation to drought stress in annual Mimulus guttatus. New Phytologist 206: 152-165 (2015).
Henry LP, Watson RHB, and Blackman BK. Transitions in photoperiodic flowering are common and involve few loci in wild sunflower (Helianthus; Asteraceae). American Journal of Botany 101: 1748-1758 (2014).
Vandenbrink JP, Brown EA, Harmer SL, and Blackman BK. Turning heads: the biology of solar tracking in sunflower.  Plant Science 224: 20-26 (2014).
Blackman BK. Interacting duplications, fluctuating selection, and convergence: the complex dynamics of flowering time evolution during sunflower domestication. Journal of Experimental Botany 62: 421-431 (2013).
Blackman BK, Scascitelli M, Kane NC, Luton HH, Rasmussen DA, Bye RA, Lentz DL, and Rieseberg LH.  Sunflower domestication alleles support single domestication center in eastern North America. Proceedings of the National Academy of Sciences USA 108: 14350-14365 (2011).
Blackman BK, Michaels SD, and Rieseberg LH.  Connecting the sun to flowering in sunflower adaptation. Molecular Ecology 20: 3503-3512 (2011).
Blackman BK, Rasmussen DA, Strasburg JL, Raduski AR, Burke JM, Knapp SJ, Michaels SD, and Rieseberg LH. Contributions of flowering time genes to sunflower domestication and improvement. Genetics, 187: 271-287 (2011).
Blackman BK, Strasburg JL, Raduski AR, Michaels SD, and Rieseberg LH. The role of recently derived FT paralogs in sunflower domestication. Current Biology 20: 629-635 (2010). 
Research Focus:
Evolutionary Processes
Location
361 Koshland Hall
Berkeley, CA, 94720-3102
Phone Number
510-664-7807
Lab Phone Number
510-664-7548