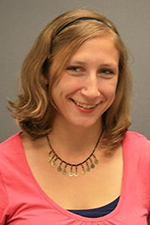 Earlier this month, the Food Marketing Institute and Grocery Manufacturers Association announced they would voluntarily streamline date labels and begin using two standard phrases: "best if used by" for quality and "use by" for highly perishable items like meat, fish and cheese that can be dangerous to eat if they are too old.
Food manufacturers will begin phasing in the change now, with widespread adoption expected by summer 2018.
UC Berkeley graduate student Becky Mackelprang, who helped organize a panel discussion last year on food waste, said consumers can make a difference by changing behaviors. She will eat bruised fruit and drink milk that's just past its expiration date.
"I use my sense of smell and my tongue," Mackelprang said. "If I think that milk is suspect, I will give it a little taste. Most of the time, it is fine. When it is bad, you spit it out and have five seconds of discomfort."
People don't realize how much food they waste, she said.
"I think it's fantastic that the grocery industry is taking this critical step toward reducing food waste," Mackelprang said. "I would also like to see legislation passed to mandate this."
Read More: 
universityofcalifornia.edu/news/it-safe-eat-confusing-food-labels-are-about-get-lot-simpler