Author: Julie Gipple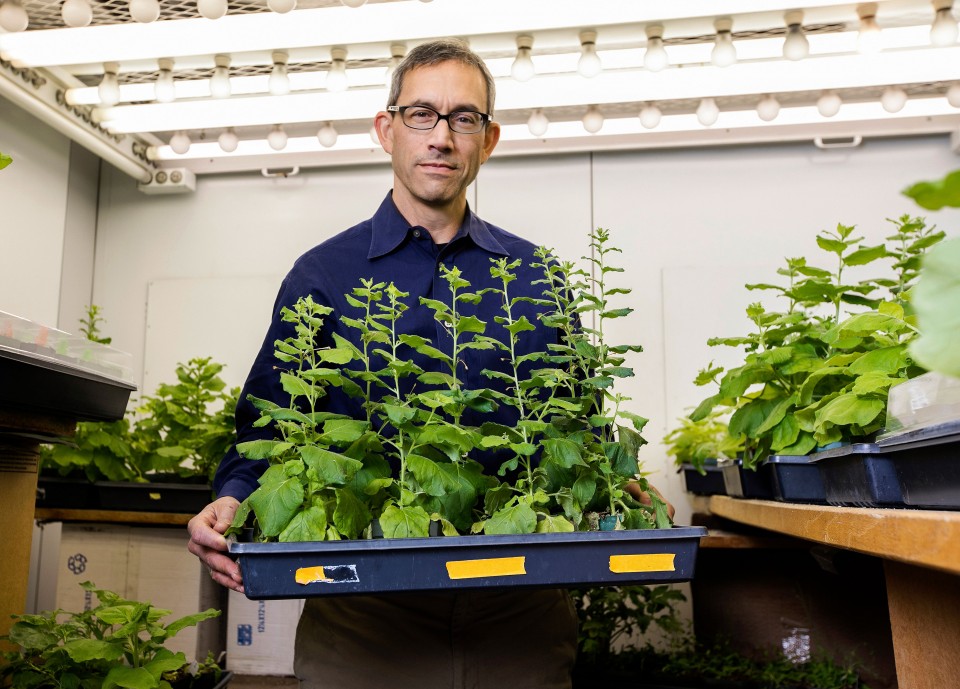 A University of Illinois research project on which UC Berkeley Professor Krishna Niyogi has been a longtime collaborator announced today that it has received a $45 million, five-year reinvestment to continue research on photosynthetic improvements that could increase yields for farmers worldwide.
The funding for the Realizing Increased Photosynthetic Efficiency (RIPE) research project—which has already demonstrated yield increases of 20 percent—comes from the Bill & Melinda Gates Foundation, the Foundation for Food and Agriculture Research, and the U.K. Department for International Development.
"Today's report on world hunger and nutrition from five UN agencies reinforces our mission to work doggedly to provide new means to eradicate world hunger and malnutrition by 2030 and beyond," said RIPE Director Stephen Long, the Gutgsell Endowed Professor of Crop Sciences and Plant Biology at the Carl R. Woese Institute for Genomic Biology at Illinois. "This investment is timely. Annual yield gains are stagnating and means to achieve substantial improvement must be developed now if we are to provide sufficient food for a growing and increasingly urban world population when food production must also adapt sustainably to a changing climate."
Building on half a century of photosynthesis research at Illinois, Berkeley, and other partner institutions, RIPE researchers identified seven potential objectives to improve photosynthesis—and with the support of an initial $25 million, five-year grant from the Gates Foundation—began work in 2012 to try to turn their ideas into sustainable increases in crop production.
Niyogi, chair of the Department of Plant and Microbial Biology, has been involved with RIPE since its inception. He was engaged in securing original funding for RIPE from the Gates Foundation, and his research related to the project focuses on the "Relaxing Photoprotection" objective. In a study published in the journal Science last year, Niyogi, Long, and their collaborators demonstrated that one of their approaches could increase crop productivity by as much as 20 percent—a dramatic increase over typical annual yield gains of one percent or less.
Niyogi hopes this is just the beginning. "We are actively working on optimizing our approach, as well as investigating complementary approaches to improve crop productivity that should be synergistic with the increase we've already achieved," he said.
Two other RIPE objectives have now led to even greater yield improvements in greenhouse and preliminary field trials.
"Our modeling predicts that several of these improvements can be combined to achieve additive yield increases, providing real hope that a 50 percent yield increase in just three decades is possible," Long said. "With the reinvestment, a central priority will be to move these improved photosynthesis traits into commodity crops of the developed world, like soybeans, as well as crops that matter in the developing world, including cassava and cowpeas."
RIPE and its funders will ensure that their high-yielding food crops are globally available and affordable for smallholder farmers to help feed the world's hungriest and reduce poverty, particularly in Sub-Saharan Africa and Southeast Asia.
But we still have a long road ahead of us, Long said.
"It takes about fifteen years from discovery until crops with these transformative biotechnologies are available for farmers," he said. "It will therefore be well into the 2030s before such superior crops are seen at scale in farmers' fields."
---
Realizing Increased Photosynthetic Efficiency (RIPE) is engineering staple food crops to more efficiently turn the sun's energy into food to sustainably increase worldwide food productivity, with support from the Bill & Melinda Gates Foundation, the Foundation for Food and Agriculture Research, and the U.K. Department for International Development.
Niyogi's work in partnership with Long is funded by a subaward from the University of Illinois, which works in partnership with UC Berkeley as well as the USDA/ARS, University of Essex, Lancaster University, Australian National University, Chinese Academy of Sciences, Commonwealth Scientific and Industrial Research Organisation, and Louisiana State University.