Research Focus: Killing off specific bacteria to learn function, treat disease

By Karyn Houston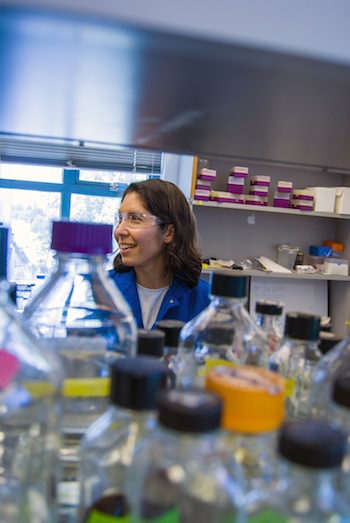 Plant & Microbial Biology Assistant Professor Michi Taga has been granted a prestigious "New Innovator Award" designed to stimulate highly innovative research and support promising young investigators.
The National Institutes of Health grant enables the Taga Lab to launch a fascinating new research trajectory – looking at the link between specific bacteria and the roles they play in the environments they live in.
Just about every environment – including nearly every inch of the human body – is teeming with a community of microorganisms that work together to do important jobs that single species don't have the power to do. These communities have dramatic effects on their surroundings. For example, the bacteria that make up a community in the human gut have recently been found to be linked to a host of ailments, including inflammatory bowel diseases, obesity, and even mental illness.

Taga's approach is designed to figure out a way to selectively kill off any bacteria of interest to eliminate them from their community. Ultimately this research could have a positive impact on dealing with disease by finding new ways to change human-associated microbial communities for the better, or by directly killing off a disease-causing species.
The goal would be to allow "controlled remodeling" of the community by reducing the concentration of disease-promoting bacteria and replacing them with beneficial ones, Taga said.
"Targeted Killing"
First they will need to figure out which bacteria should be eliminated to promote better health. The "targeted killing" approach will enable researchers to learn about the roles of the different types of bacteria that make up a community. Only then can effective therapies be designed that change the composition of bacteria in the community.

Taga's approach contrasts with the use of antibiotics which, though largely effective in eliminating disease-causing bacteria, kill off large swaths of bacteria and leave the community dramatically altered. Overuse of antibiotics has been a big problem, both because of the rise of resistant forms and because of the impact of these drugs on the resident microbial community. The new approach could open the door to treatments that kill specific pathogens or change the community in a more desirable way.

This "targeted killing" strategy would also be applicable to:

• Treatment of food or food-processing materials to prevent contamination with pathogenic bacteria.
• Eliminating bacteria that compete for the same resources as toxin-degrading bacteria in the environment.
"High Impact" Science
This particular NIH grant, announced Monday, Oct. 6, 2014, is aimed at stimulating bold research and innovative ideas that "have the potential for unusually high impact" on an important biomedical problem. The Taga Lab will be funded $1.5 million over the next five years.

The award recognizes "especially creative" scientists who propose highly innovative projects that have the potential for unusually high impact.
"Supporting innovative investigators with the potential to transform scientific fields is a critical element of our mission,"' said NIH Director Francis S. Collins, M.D., Ph.D. "This program allows researchers to propose highly creative research projects across a broad range of biomedical and behavioral research areas that involve inherent risk but have the potential to lead to dramatic breakthroughs."

Taga's award opens the door to a new, innovative approach to alter microbial populations. This approach has applications to human disease, but also to the possibility of tailoring microbial populations in environmental settings, said N. Louise Glass, chair of the Department of Plant & Microbial Biology at UC Berkeley.

PMB is very strong in this area and Michi Taga's approach to tailoring microbial populations is just one example of work in the department, Glass said. "In addition to microbiology, our department is dedicated to innovative research in biofuels, manipulating plant traits and eradicating plant disease, with the ultimate goal of improving technology so we can better address world environmental and food issues." 
Links
More information on current awardees and the NIH High Risk-High Reward Research Program can be found at: commonfund.nih.gov/highrisk
Article in UC Berkeley News Center: newscenter.berkeley.edu/2014/10/06/berkeley-faculty-receive-nih-innovator-award