Top students present their year-long research projects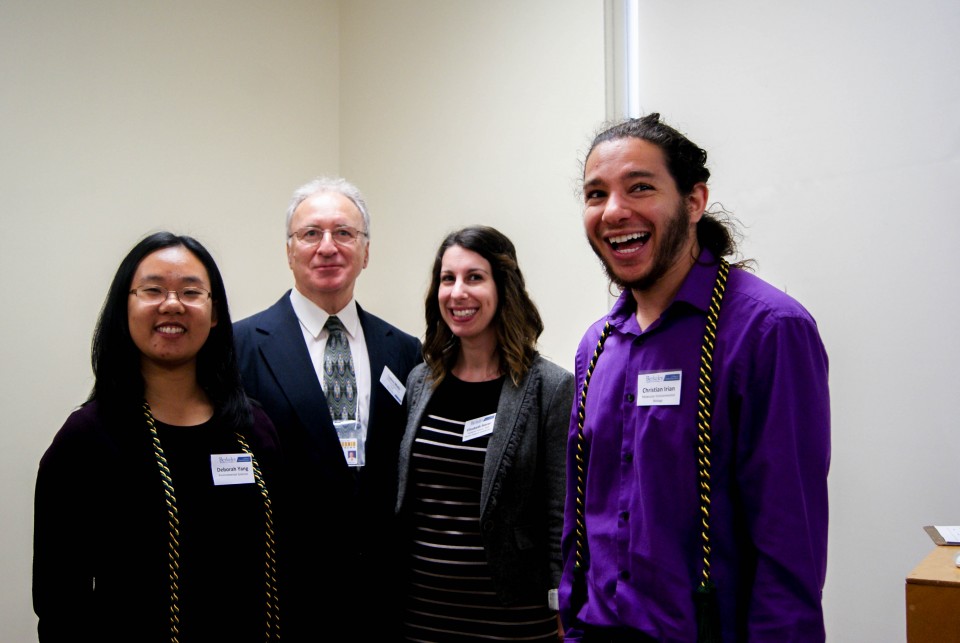 More than 30 qualifying undergraduate students from eight majors in the College of Natural Resources gave presentations at 114 Morgan Hall on May 5-6, 2016.
The two-day event showcased results from the students' respective research, with topics ranging from water availability in the Central Valley of California to characterization of antibiotic-resistant Staphylococcus aureus bacteria. The event was organized and moderated by Professor Tasios Melis of the Plant & Microbial Biology department, with assistance by Elizabeth Storer, CNR Dean's Office of Student Affairs.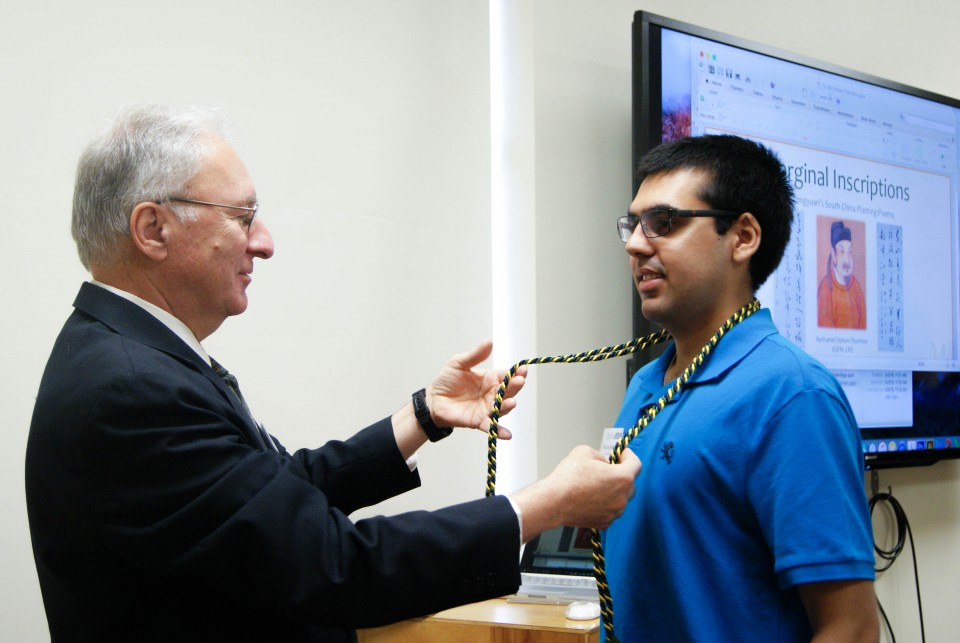 Presenters:
Cherry Liu, NST-PM; Nutrient Modulation of Inflammatory Response by the Neurolymphocrine System; CNR Faculty Mentor: Greg Aponte
Judith Skye Glenn, MEB; Population analysis of Taricha torosa across human modified landscapes in northern California; CNR Faculty Mentor: Ian Wang
Christian Cabuslay, MEB; Localization of Three Gene Duplicates of Moss EMF2 with GFP; CNR Faculty Mentor: Chelsea Specht
Lynn Ly, GPB; Redundancy Post Gene Duplication in Moss EMF2; CNR Faculty Mentor: Chelsea Specht
Noah Gardner, GPB; Modulation of Plant Innate Immunity through DCL4-Dependent miRNAs; CNR Faculty Mentor: Barbara Baker
Brittni Bertolet, ES; Lake TEA: Changing Dynamics of Terrestrially-Derived Dissolved Organic Carbon in Lakes of Northern Wisconsin; CNR Faculty Mentor: John Battles
Hannah Hagen, ES; Improving Simulation of Stratocumulus Clouds; CNR Faculty Mentor: Patina Mendez
Lindsey Agnew, ES; The Role of Environmental and Evolutionary History on California Fern Leaf Morphology; CNR Faculty Mentor: Patina Mendez
Hannah Nguyen, CRS; Maritime Testing and Degradation of Mycelium Composite Materials: The Ganoderma lucidum Buoy; CNR Faculty Mentor: Tom Bruns
Dakota Glueck, CRS; Weed Suppression Effects of Fava Bean Cover Cropping; CNR Faculty Mentor: Miguel Altieri
Lawrence Bai, MB; CRISPR Immunological Memory Requires a Host Factor for Specificity; CNR Faculty Mentor: Arash Komeili
Tianxia (Margaret) Xiao, MT/EEP; Progress in Synthesis of Cyclic Oxaphosphetane as a Proposed BChE Inhibitor; CNR Faculty Mentor: John Casida
Samuel Terrell, S&E;Mountain Lion Hunting in California: An Examination of Policy and Practice; CNR Faculty Mentor: Rachel Morello-Frosch
Kunihiko Chen, MT; Screening and Production of Antibodies Against Outer-Membrane Bacterial Components For the Development of a Rapid Diagnostic Platform to Detect and Differentiate Multidrug Resistant Strains; CNR Faculty Mentor: Dale Leitman
Madelyn Kring, NST-PM; Vitamin A Metabolism in Brown Adipose Tissue Function; CNR Faculty Mentor: Joseph Napoli
Myeongcheol (Mitch) Kim, NST-PM; The Significance of RDH10 in Regulating Bone Marrow Adiposity; CNR Faculty Mentor: Joseph Napoli\
Deborah Yang, ES; Hedging our Bets on Urban Agriculture - A Cost-Benefit Analysis of the UC Gill Tract Community Farm; CNR Faculty Mentor: Abigail Cochran
Shiqiao (Tyler) Yan, ES; Greener, at What Cost? A Holistic Evaluation of Alternatives in China's Energy Dispatch Policy Reform; CNR Faculty Mentor: Patina Mendez
Jordan Cheng, ES; Chasing the Tesla Standard: Projecting Mass Market Battery Electric Vehicle Adoption; CNR Faculty Mentor: Kurt Spreyer
Hillary Buntara, ES/EEP; Infrastructure Interdependency: A Jakarta, Indonesia Case Study; CNR Faculty Mentor: Kurt Spreyer
Manraj Sekhon, MB; Characterization of Methicillin Resistant Staphylococcus Aureus Isolates from Health Clinics; CNR Faculty Mentor: Lee Riley
Karina Soenjoyo, MB; Crispr-based Analysis of Enterococcus faecalis Populations; CNR Faculty Mentor: Jillian Banfield
Christian Irian, MEB; Put on the Red Light: Does Enrichment E ect Tuco-Tuco (Ctenomys Sociabilis) Behavior?; CNR Faculty Mentor: Eileen Lacey
Andrea Rios Dominguez, MEB; Urbanization and Water Availability: Drivers of Avian Community Structure in the Central Valley; CNR Faculty Mentor: Steve Beissinger
Julia Tubert, S&E; Affordability of a Healthy Diet on a SNAP Budget in Berkeley; CNR Faculty Mentor: Kathryn DeMaster
Allison Loux, S&E; Aguas Privadas: Community Involvement Surrounding Natural Resource Extraction in Chile; CNR Faculty Mentor: Kate O'Neill
Juliana Wu, MEB; Optimizing Nutrient Interactions in a Broccoli-Fava Intercropping System; CNR Faculty Mentor: Celine Pallud
Madeleine Siegel, CRS; Lead Contamination and the Cultivation of Soil Health in Urban Agriculture; CNR Faculty Mentor: Celine Pallud
Gawain Kessner, CRS; THIMBY- Net Zero Tiny Home At Berkeley's New Global Campus; CNR Faculty Mentor: Ignacio Chapela
Daniel Desantiago, CRS; Effects of Religious Cultural Beliefs on the Hmong Relationship with the Environment: A Comparative Study of Traditional & Christianized Hmong in Thailand & California; CNR Faculty Mentor: Jennifer Sowerwine
Nathaniel Dolton-Thornton, CRS; Marginal Inscriptions: Liu Zongyuan's South China Planting Poems; CNR Faculty Mentor: Paula Varsano