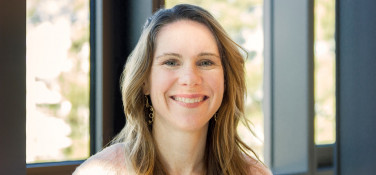 Award recognizes scientific excellence of PMB virologist
By Karyn Houston, Plant & Microbial Biology
Britt Glaunsinger has been appointed a 2015 Howard Hughes Medical Investigator, one of 26 biomedical researchers from across the nation selected from a pool of more than 800 applicants.
Glaunsinger, an Associate Professor in the Department of Plant & Microbial Biology at UC Berkeley, is being recognized as an investigator who is "at the forefront of discovery research" for her work on viruses.
"Funding from HHMI is wonderful, in part, because it allows us the flexibility to pursue new ideas—both in the context of our ongoing research program and in our ability to expand into uncharted areas," Glaunsinger said. "The fact that the fund allocation is at the discretion of the researcher, rather than restricted to specific pre-approved projects, means that we can rapidly follow up on exciting new directions."  
Studying Viruses
Glaunsinger says we can learn a lot about ourselves by studying viruses that have evolved to infiltrate our cells.
"Viruses are remarkable molecular machines, having evolved to hijack or evade a myriad of cellular pathways," Glaunsinger said. "They are ubiquitous agents of disease and powerful tools to help us understand the biology of our own cells."
Viruses with DNA genomes, such as the herpesviruses which Glaunsinger has researched extensively, generally exhibit genome replication and gene expression strategies that mimic those of the cells they infect. These parallels have made them valuable for probing molecular features of how our own cells work, including how genes are expressed, how genomes are copied and how disruptions in these processes can lead to cancer.
The Glaunsinger Lab examines how a group of cancer-associated herpesviruses that causes severe pathology in AIDS patients interface with the cell during infection. 
"We are particularly interested in how these viruses steal, manipulate, or imitate cellular machinery to control gene expression.  Understanding how these viruses interact with their host cells is anticipated to provide important insight for the development of strategies to block viral amplification, as well as yield new information about how mammalian cells function," Glaunsinger said.
The Award
Glaunsinger and other awardees will receive the flexible support necessary to move their research in creative new directions. The initiative represents an investment in basic biomedical research of $153 million over the next five years.
"It is very prestigious for the Plant and Microbial Biology Department to have a new HHMI investigator," said N. Louise Glass, PMB Professor and Chair of the department. "Glaunsinger's research is spectacular. She has exceptionally high scientific standards and pushes the boundaries of research in virology. She is a role model for how science should be done and is an incredible asset to the PMB department."
"Scientific discovery requires original thinking and creativity," says Robert Tjian, HHMI president and a professor at UC Berkeley. "Every scientist selected has demonstrated these qualities. One of the most important things we can do at HHMI is to continue to support and encourage the best discovery research. We don't know this for certain, but the ideas that emerge from these labs might one day change the world, and it's our privilege to help make that happen."
HHMI will provide each investigator with his or her full salary, benefits and a research budget over their initial five-year appointment. The Institute will also cover other expenses, including research space and the purchase of critical equipment. Their appointment may be renewed for additional five-year terms, each contingent on a successful scientific review.
"The HHMI strategy really supports creativity, particularly for 'high risk, high reward' types of ideas that are difficult to secure funding for by more traditional means," Glaunsinger said. "I am extremely excited and honored to be part of such an inspirational group of scientists, and can't wait to see where this leads the lab over the next several years!"
Fundamental Questions
The new investigators represent a variety of disciplines, including biochemistry, biophysics, cell biology, computational biology, genetics, immunology, neuroscience, and virology. Some of the questions they are asking include:
How do chromosomes find their way as cells divide?
What cellular machinery is defective in neurodegenerative disease?
How do cells organize to create the three-dimensional shape of an organism?
How does the human brain recognize faces?
How can genetic information be used to target cancer more effectively?
How does the brain form memories and how do memories help guide decisions?
Andreas Martin, an assistant professor of biochemistry at UC Berkeley, also was granted the award this year.
Links
Glaunsinger Lab
HHMI
Plant & Microbial Biology, UC Berkeley