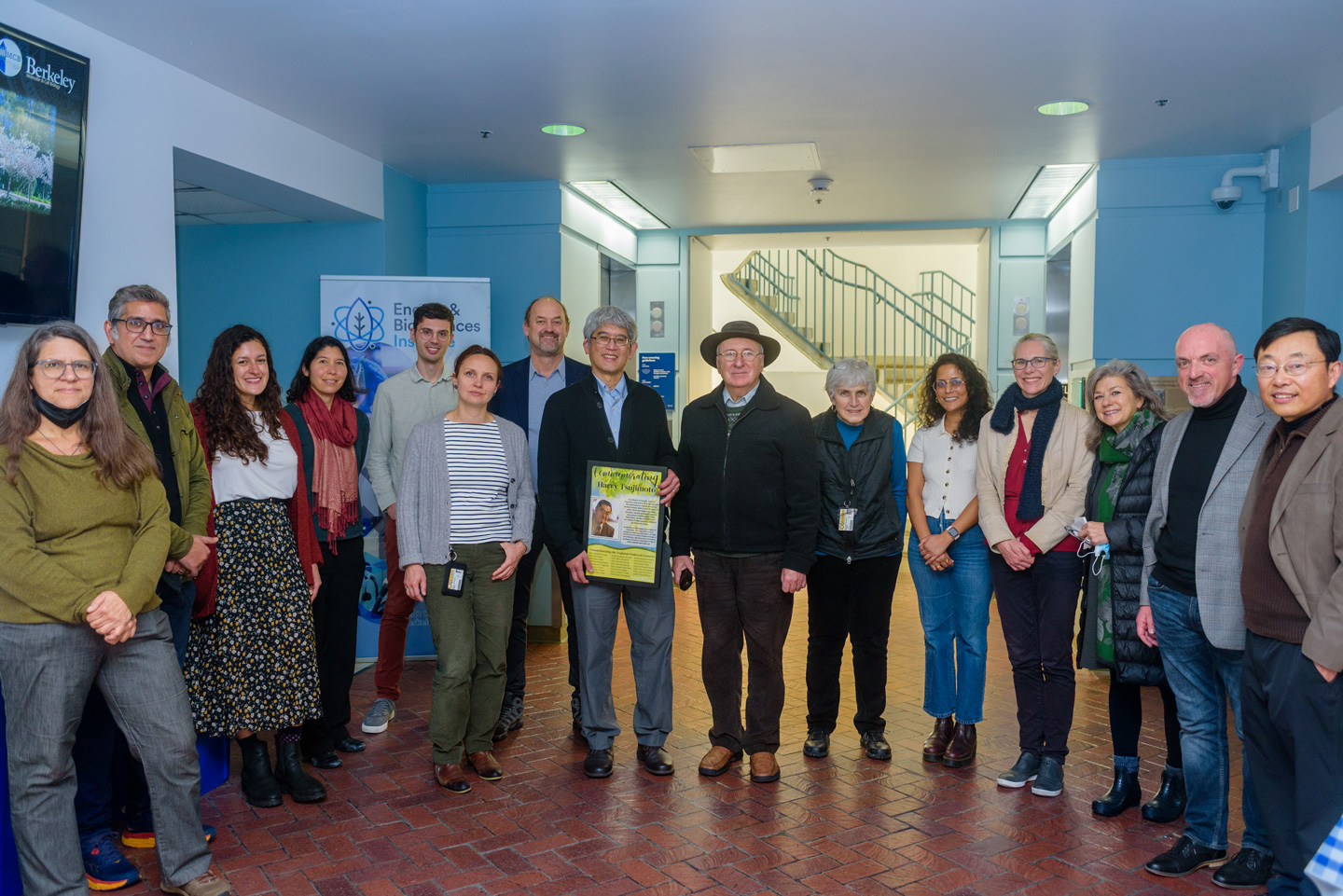 Members of the PMB community pose for a photo with Mark Tsujimoto, nephew to Harry Tsujimoto and Grace Kase, during a plaque unveiling at Koshland Hall.
Longtime Plant and Microbial Biology (PMB) laboratory manager Harry Y. Tsujimoto and his wife Grace Kase were celebrated on January 11 during the unveiling of a commemorative plaque at Koshland Hall.
Revealed during a small ceremony with Mark Tsujimoto, nephew to Harry and Grace, the plaque recognizes Harry Tsujimoto and Kase for their support of the Department's students and faculty. Throughout their lifetime and through their estate, their gifts to PMB helped support the department's core programming and established a faculty Chancellor's STEM chair, a graduate fellowship, and two endowed lectureship funds.
As a longtime laboratory manager within the department, Tsujimoto, MS '63 Cell Physiology, worked alongside Professor Daniel Arnon to advance groundbreaking research in plant mineral nutrition and photosynthesis. Kase was an ambitious entrepreneur who earned her real estate license at a time when few women—let alone Asian American women—were accepted in the industry.
Together the pair created a thriving business, allowing them to generously support higher education institutions as well as organizations for Japanese Americans, veterans groups, service dogs, and shelters in the Bay Area. 
"Grace and Harry's story exemplifies achieving the American dream in one generation," Mark Tsujimoto previously told Rausser College. "They understood that making the most of the opportunities in this country requires hard work and the support of others, and they believed that true success is measured in the good one can accomplish for others."
Read more about the legacies left by Harry Tsujimoto and Grace Kase in Breakthroughs Magazine.