The mission of the Peer Advising Group is to create a comfortable community to discuss and address concerns of first and second year PMB graduate students.
We provide ongoing advice as students navigate common and unique issues faced in the transition to graduate school. We facilitate connections with senior PMB graduate students and provide access to the myriad of campus and community resources to help new students face and resolve their concerns in a confidential and personalized manner.
Structure
The Peer Advising Group currently consists of eight graduate students representing both plant biology and microbiology doctoral programs.
Bailey Bonet 4th - MB
Tyler Barnum 4th - MB
Johan Jaenisch 4th - MB
Tuesday Simmons 3rd - MB
Brianna Haining 3rd - PB
Norma Morella 4th - MB
Siwen Deng 4th - PB
Amanda Shelton 4th - MB
Chris Gee 5th - PB
MB=microbiology; PB-plant biology
The group is advised and coordinated by Professor Pat Zambryski and Graduate Adviser Rocio Sanchez.
The Graduate Student Peer Advising Group is not a replacement for faculty or staff advising, but rather a supplement. While it is important for a student to have a faculty mentor and staff adviser to provide guidance throughout the educational experience and doctoral training, peers can contribute to student success in ways that complement faculty/staff advising services.
The advantages of utilizing peer advising as a component in academic advising models include flexibility in delivery methods, peer-to-peer interaction and development of peer advisers. Peers may be better equipped to address certain aspects of advising than faculty mentors or staff members who serve as advisers. Peer advisers view the institution through a different lens than do faculty/staff and are more familiar with the graduate student experience. Likewise, peers can better relate to students' concerns, because they likely went through the same experiences. Because of their ability to relate, peer advisers can form personal connections with other students and facilitate peer interactions.
Confidentiality
First and second-year graduate students are encouraged to approach the graduate student peer advising group with any issues they would like to discuss. For some concerns, students may feel most comfortable when discussions with Peer Advisers remain confidential and such discussions are welcome. The Peer Advisers have received training in mentoring from Counseling and Psychological Services and are respectful of student confidentiality. However, there may be occasions when a problem arises that the peer adviser is not equipped to deal with. On these occasions, the peer adviser should discuss options with the student, for example, consulting someone inside or outside of the department for additional advice. It is up to the student to decide if it's OK for the peer adviser to share any identifying or situational information with any person being consulted.
Peer advisers should feel free to describe situations (in a general manner in order to get advice) to:
Head graduate advisers
Staff in the PMB Graduate Office
University Health Services
Other peer advisers
Head graduate advisers and staff in the PMB Graduate Office and/or University Health Services are here to support all students, including peer advisers. Peer advisers have a responsibility to report any information regarding potential harm to a student or potential harm to others by a student. If a student talks about harm to self or others the peer adviser should consult with Professors Somerville or Zambryski, or Rocio Sanchez in the PMB Graduate Office. If the danger appears imminent, the peer adviser may consult first with Counseling and Psychological Services. 
Benefits and Roles for Peer Advisors
Benefits
Develop valuable communication skills and confidence speaking in front of others
Peer advisers develop skills such as leadership, time management, and organization
Be recognized as a student leader and positive role model
Gain a greater understanding of PMB and University-wide policies
Serve as a vital resource to your peers and enrich the lives' of others
Enhance your resume and develop important professional skills
Roles
Engage in PMB recruitment and retention programs
Provide information about PMB and university requirements, policies, and procedures
Make referrals to a wide cariety of campus services and resources
Provide general information about career services and career options
Participate or lead workshops in PMB
Participate in PMB Orientation Day and Department and/or GGM (Graduate Group in Microbiology) retreat
Respond to student emails
Liaise with PMB, GGM or other campus student groups and departmental committee representatives
Commit to one or two years of peer advising
Contact Us
Peer advisers are available via email and in-person. To contact a peer adviser please send an email to any of the peer advisers listed below. We will get back to you right away.
Norma Morella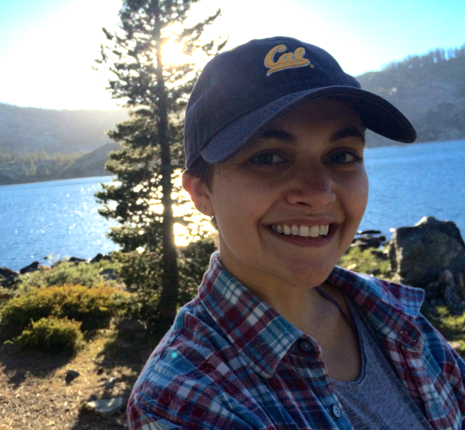 4th Year, Microbiology, Koskella Lab
morella@berkeley.edu
I study plant-associated microbes, specifically, those living in the phyllosphere. Some of the main goals of my project are to figure out what drives community composition and diversity of bacteria in this environment. We think that factors ranging from host genetics to environment to the presence of phage all play a role.
Outside of lab, I love climbing, hiking, porch-sitting and beer-drinking, reading things other than microbiology papers, spending time with my friends, and traveling. 
My first year of grad school, I struggled with the transition back into schooling. Adjusting to a new place, schoolwork, rotating through labs, and a heavy dose of imposture syndrome made life pretty stressful! Then, I had to switch labs in my second year when my PI left for another university- a difficult moment of "Well, should I just drop out?" Throughout this time, I sought the advice of friends and peers and older graduate students, and each time, it helped me remain optimistic and encouraged. Now, I love my lab and my research, and life is great! I hope that I can offer advice- or just be an active listener- to any of my peers as they navigate through their own challenges the first years of grad school.
Bailey Bonet
3rd Year, Microbiology, Traxler Lab
bbonet@berkeley.edu
I study specialized metabolite production in the soil dwelling, filamentous bacteria Streptomyces. I'm particularly interested in how specialized metabolism is regulated during interspecies interactions and what role the metabolites play in mediating these interactions.
Outside of lab I like to get outdoors and go hiking, picnicking, camping, biking, and flying kites. I also like to cook, go beer tasting, and play with puppies!
During my first year I had a great time bonding with my cohort, exploring the bay area, and getting to know Berkeley and all its quirks. Balancing classes, research, and a social life was definitely challenging, but having support from the peer mentors and from my cohort really helped! Talking about imposter syndrome and learning that everyone feels it at some point in grad school was important for me to deal with those feelings. I want to assist new students during their acclimation to grad school and build a supportive environment in PMB.
Brianna Haining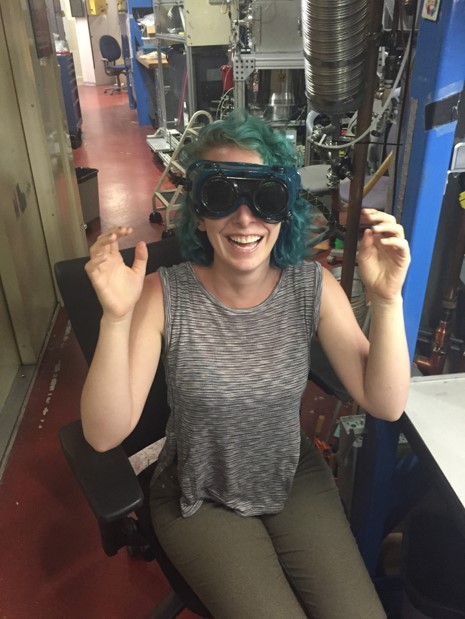 3rd Year, Plant Biology, Hake Lab
blh264@berkeley.edu

I study iron uptake and allocation in foxtail millet (Setaria italica), a subsistence crop species mainly cultivated in China and parts of Africa. One of the main goals of my project is to identify alleles that contribute to increased iron concentration in the seeds of these plants without also increasing the content of toxic ions.

In my free time, I knit (excessively) elaborate objects, I bike around, I dye my hair crazy colors. I also read huge amounts of scifi and weird fiction.

I chose to be a peer mentor because I moved around a lot in college, and I know that having a built-in support system in a new city can really help make the experience more bearable (and hopefully fun). I've found that PMB has been a particularly supportive environment and I want to help to extend that support to new students.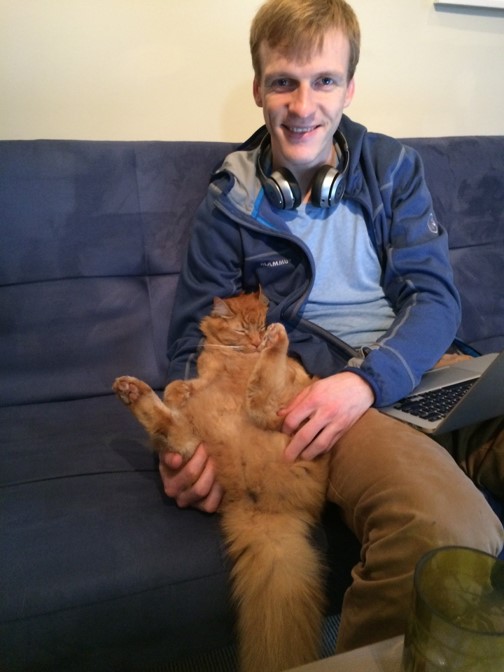 Johan Jaenisch
3rd Year, Plant Biology, Wildermuth Lab
I work with powdery mildew, a fungal pest that cannot live apart from its plant host. By looking at the effects of the fungal infection on the host plant, we've learned that it requires specific energy-rich nutrients to grow healthy spores that do not normally accumulate in leaves. My goal is to understand how the plant metabolism is manipulated by the fungus to prioritize making these tasty compounds so that it can reproduce more quickly!

When I'm not in the lab, I'm trying to overcome my fear of heights at the tops of climbing routes, exploring California, trying to fit more sports into my schedule, and lounging with my mini-tiger Jonesy, who has the same birthday as I do.

I am part of the peer mentoring program because during my first year I was naked and afraid - no wait, that's a show. But I was like a newborn in the sense that I had no idea how to begin making decisions that would determine the route of my or how to balance my life outside of school with the work that I saw piling up in lab. I want to provide support to anyone dealing with the first year, as well as remind you that grad school is a unique challenge that requires working hard while also taking care of yourself too!
Tuesday Simmons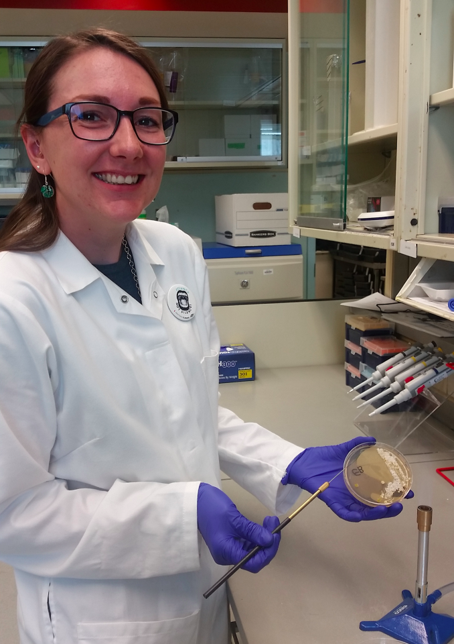 3rd Year, Microbiology, Coleman-Derr and Arkin Labs
tsimmons@berkeley.edu

I study the microbiome of crop plants and how the bacterial communities change when the plant undergoes abiotic stress. By studying these dynamics, one of my goals is to engineer microbial communities that have plant growth promoting properties under drought.
In my free time I love to spend time away from the busy city by going on hikes and camping. I also spend time volunteering with CLEAR, a science outreach group, and organize monthly farmer's markets booths.
I benefited greatly from the peer mentors during my first year at Berkeley. I hope to share my experiences of working in two labs (one on campus and one off) and adjusting to graduate school with our new PMB family.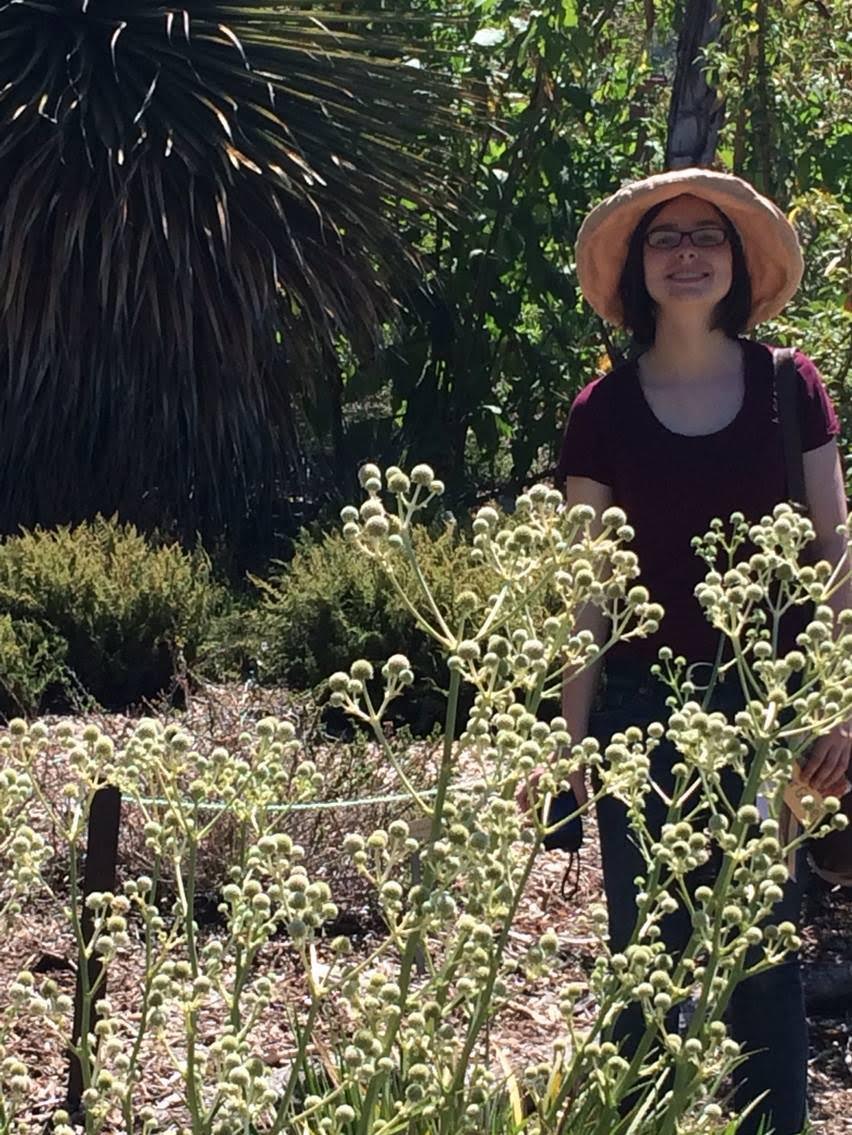 Amanda Shelton
4th Year, Microbiology, Taga Lab
ashelton@berkeley.edu
Our lab studies how microbes interact by using corrinoids as a model nutrient. This family of cofactors, which includes vitamin B12, is necessary for a wide range of microbial metabolisms, but as I and others have shown using bioinformatics, only about half of the microbes that require corrinoids can make them de novo and so these cofactors must be shared between microbes. I have been focusing on corrinoid intermediate auxotrophs, which have partial biosynthetic pathways, and I am investigating how access to either intermediates or complete corrinoids affects some of these auxotrophs.
I try to take advantage of living in the Bay Area when I am not in lab. I enjoy walking and exploring Berkeley and San Francisco, hiking in nearby nature preserves, and going to museums.
I found having a support network of both my graduate student peers and my labmates has helped me a lot in grad school. I hope to be a resource for my peers in the same way.
Chris Gee
5th Year, Plant Biology, Niyogi Lab
cwg@berkeley.edu
The Niyogi Lab aims to expand our mechanistic understanding of photosynthesis, especially photoprotection (NPQ) and the biogenesis of the photosynthetic apparatus in thylakoids. And then there's me- I'm off by myself on the "dark side" of photosynthesis, working out the molecular components of the CO2-concentrating mechanism (CCM) of the emerging model microalga, Nannochloropsis oceanica.
Out of the lab I spend most of my time playing music (old-time and bluegrass banjo, mandolin and guitar), rock climbing in the gym, hiking, or cooking and spending time with my co-op(ish) housemates.
I spent 2 years organizing the Monday Student Post-Doc (SPD) seminar series, and last year as the PMBG student group co-chair. The grad community of PMB is somewhat unusual among departments in its level of organization and degree of involvement in departmental affairs. I've benefitted from the support this community provides and in my 'old age' of grad school, I hope to help new students feel welcomed and prepared to succeed.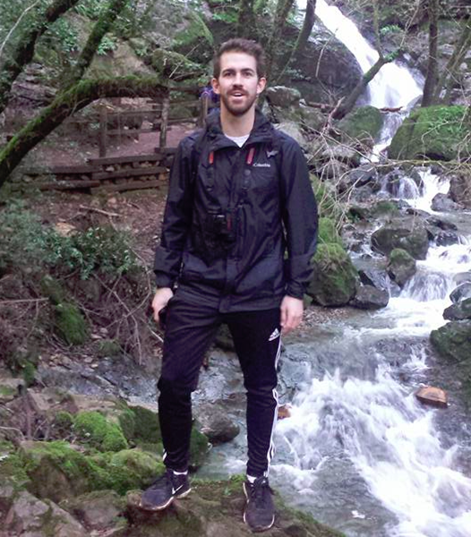 Tyler Barnum
4th Year, Microbiology, Coates Lab
barnum@berkeley.edu
Microorganisms metabolize an astonishing variety of nutrients and minerals. I study how communities of microorganisms break and remake chlorine compounds.
I focus my extramural activities on de-stressing and exploring through exercise (soccer!), hikes, cooking and eating new foods, and books. I value civic engagement and have tried to be contribute to my campus and city communities.
In graduate school, you can always find something to be worried or upset about. It's helpful to have someone help direct those feelings towards the right concerns and focus on having a great experience.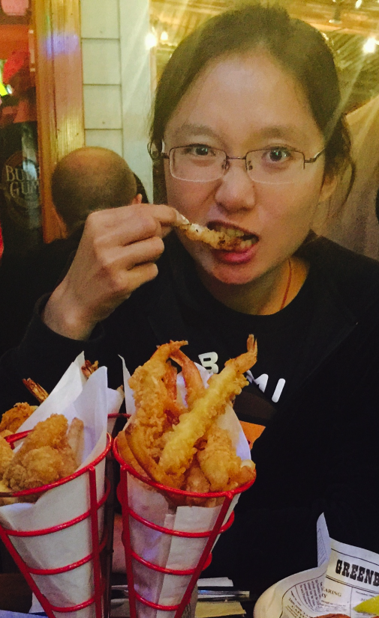 Siwen Deng
4th Year, Plant Biology, Coleman-Derr Lab
swdeng@berkeley.edu
Most plants develop close interactions with soil microbes, and many such microbes are important for plant health and productivity. I am interested in identifying the effect of plant host genetics on regulating the root microbial communities. I believe that host-mediated microbiome engineering will provide a new direction of agricultural improvement through microbial applications.
Outside of lab, I enjoy spending time with my families and friends. We do hiking, horseback riding, playing music, watching movies and exploring new restaurants. I'm also an amateur photographer. I select one picture of the year to make my new year card for friends.
With help and support from my cohort and peer mentors, I had a great first-year experience. Adapting to a new environment can be hard and stressful. I want to be one of the beneficial microbes (peer mentor group) to help the new plants (first years) adapt to a new environment (graduate school).