Peer Advising Leadership (PAL) Program for undergraduates is managed by the Rausser College of Natural Resources Office of Instruction & Student Affairs. Students are encouraged to get in touch with the Peer Advising Leaders via the links and information below in order to discuss and address concerns of students.
The Peer Advising Leaders, under the mentorship of staff advisors, provide advice as students navigate issues faced in attending a university that is as complex as UC Berkeley. A Peer Advising Leader can often provide help and understanding that students need. All meetings and correspondence with peer advisors is confidential.
About the Peer Advising Program
The Peer Advising Leadership (PAL) Program of CNR strives to offer personal viewpoints and experiences to current and prospective CNR students. These students are trained in understanding CNR and University requirements, policies, and procedures, and they help with CNR recruitment and enrichment programs. Their work is integral to the success of their fellow CNR undergraduates.
If you wish to contact a Peer Advising Leader, visit the Student Resource Center at 260 Mulford, or send an email.
Interested in Becoming a Peer Advisor?

Are you passionate about your major and CNR? Do you want to help students find their path and build community within CNR?
If you replied yes, apply to become a peer advisor for CNR! It's a great opportunity to  work with staff advisors and learn about the different majors and departments. Applications are now closed for the 2016-17 school year.  If you are interested in applying in the future, please check the CNR Peer Advising Leadership page next Spring!
Link
Meet the 2016-17 Peer Advisors

Adrienne Rodriguez
Hey! I'm Adrienne and I'm a third year Microbial Biology major - Host-Pathogen emphasis. I'm a Bay Area native interested in a multitude of things from cooking, exploring the Bay, concerts as well as research. I also love working with animals and checking out different places in Berkeley. Come up to Mulford if you need advice on what classes to take, need help finding biology related resources, or just general company!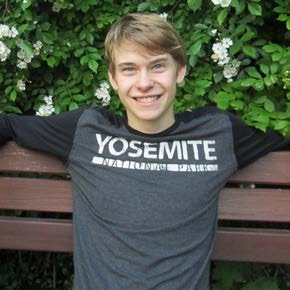 Jackson Tonnies
Hey, I'm Jackson and I'm a fourth year Genetics and Plant Biology major. I love plants, hiking and playing soccer with friends. I just got back from Berlin and (like all study abroad students) would love to talk to you about it. I also have two years of experience as an undergraduate researcher, have held down a job on campus and have helped to raise wolf pups. Questions on the above or life in general? Come down to my office hours and I promise answers to all*.
*answers not guaranteed to be on topic, but I'll do my best