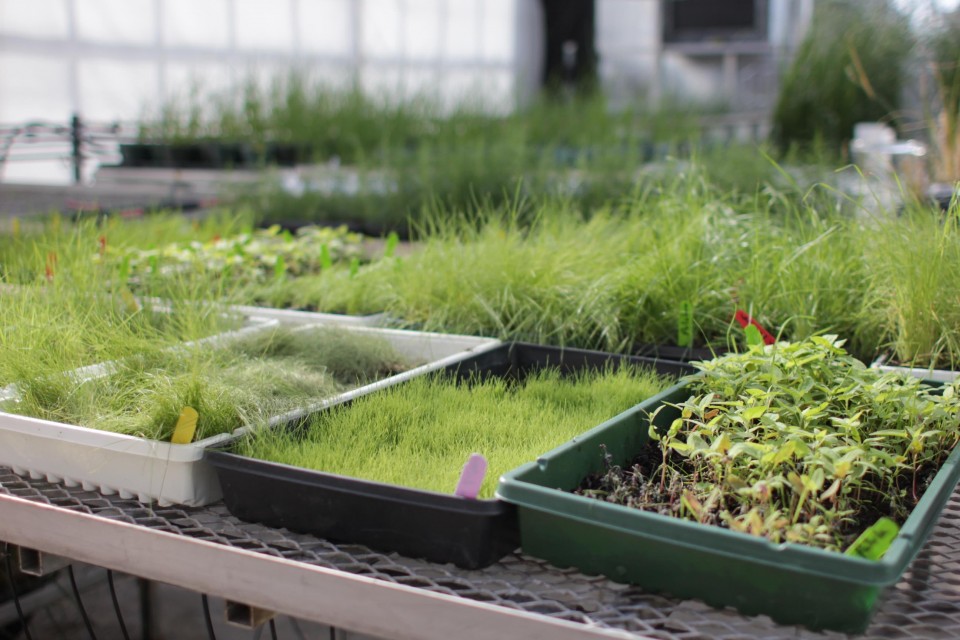 The Department has outstanding greenhouses, growth chambers and field space available for research directly across the street from Koshland Hall. 
The Rausser College of Natural Resources manages the greenhouse, growth chamber, lath house, and field space for plant science research at University of California, Berkeley. The experienced staff, led by Manager Tina Winstrom, provides horticultural consultation, supplies, plant monitoring and watering, and pest control. Resources include mist propagation beds and rooms, work space, supplemental lighting, and temperature and lighting controls.
The GPB (North) greenhouse opened in 1993 and offers 10,000 sq. ft. of climate controlled greenhouse space, and shared head house and laboratory work space.
The Oxford RES (South) greenhouse was finished in 1964 and has 23,100 sq. ft. of greenhouses, four lath houses, four shared head houses, assigned laboratory, office and storage space, and six growth chambers.
The Insectary greenhouse opened in 2002 and contains 4400 sq. ft. of greenhouse and 2200 sq. ft. of lath house space in support of insect biology research.  
Contact
For  inquiries and space requests, contact Tina Wistrom, Facility Manager.
(510) 642-8189
Services
Service
Greenhouse, field, and lath house space are provided to UC Berkeley researchers on a recharge basis. User fees cover plant watering and monitoring (365 days/year), fertilizer, pots, soil, supplemental lighting, and pest control. Additional services such as custom irrigation systems, regularly scheduled planting, and basic plant maintenance are provided on an hourly recharge rate.
Use of greenhouse, growth chamber, and field space by non-UC Berkeley researchers requires approval by the Greenhouse Manager, Oxford Facilities Oversight Committee Chair, and the College of Natural Resources Dean's Office. Requests are granted on a case-by-case basis and only if there is no demand for the space from UC Berkeley researchers.
Soils
We offer five commercial soil blends for planting:
MetroMix200
Sunshine Mix 1
Sunshine Mix 4
Supersoil
Multipurpose Mix from American Soil Products.
We also provide Turface, perlite, peat, vermiculte, and Lapis 2/12 washed sand.
Fertilizers
Osmocote 14-14-14
Osmocote Plus 15-9-12
Peter's Professional 20-20-20
YaraLiva CalciNit
Water
East Bay Municipal Utility District Water Analysis
UC Berkeley is served by the Orinda treatment plant.
DI water is also available in most greenhouse rooms.
Lighting
We offer supplemental lighting for your experimental needs:
Fluorescent
High pressure sodium
Metal halide
LED
Please contact the greenhouse manager to discuss lighting options for your experiments.