[THIS PAGE IS CURRENTLY UNDER CONSTRUCTION]
Spotlight on Fall Microbiology Course
Plant and Microbial Biology C112 is a great fall course taught by Associate Professor Kathleen Ryan, an outstanding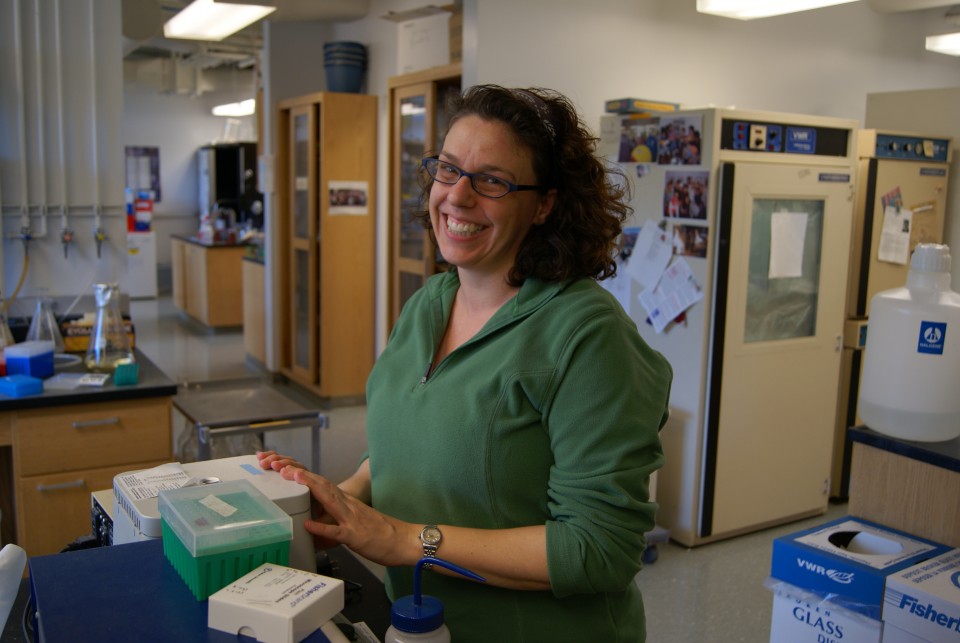 lecturer with a passion for microbiology. 
Although invisible to the naked eye, microbes are everywhere! There are good and bad microbes, and their role in biology is profound and fundamental. Microbes play a key role in human and plant health and in the environmental cycling of nutrients such as carbon, nitrogen, and iron. 
This general microbiology course will focus on bacteria and explore the fundamentals of their growth, metabolism, cell structure, adaptive responses, and interactions with other organisms. We will examine techniques for studying bacteria, including genetics, microscopy, genomics, biochemistry, and ecological methods. 
PMB Courses Summer 2017
Below are the Plant and Microbial Biology Department courses offered for Summer 2017. Please note that this is not a complete list of all courses. Labs, discussions, seminars, and special courses are not listed. For a full listing of current courses in the PMB department visit schedule.berkeley.edu
For a detailed explanation and list of PMB courses and a by-semester schedule visit guide.berkeley.edu/courses/plantbi/
Course Name
Instructor
CCN
22: Microbes Make the World Go Around
Staff
15064
C112: General Biology
Staff
13663
C112L: General Microbiology Laboratory
Staff
13666
140L: Discovery-Based Research in Microbiology

Freshmen Seminar: "Reflecting on the Big Questions: Wdhat Matters to Me, and How 

Ryan
15300
PMB Courses Spring 2017
Below are the Plant and Microbial Biology Department courses offered for Spring 2017. Please note that this is not a complete list of all courses. Labs, discussions, seminars, and special courses are not listed. For a full listing of current courses in the PMB department visit schedule.berkeley.edu
For a detailed explanation and list of PMB courses and a by-semester schedule visit guide.berkeley.edu/courses/plantbi/
Course Name
Instructor
CCN
24: Freshmen Seminar

: "Reflecting on the Big Questions: What Matters to Me, and How Does it Connect With my College

 

Jones
25378
40: The (Secret) Life of Plants
Zambyrski
25382
101L: Experimental Plant Biology Lab
Wildermuth
25429
C103: Bacterial Pathogenesis
Portnoy
Vance
25431
C112L: General Microbiology Laboratory 
Komeili
31923
C114: Introduction to Comparative Virology
Glaunsinger
Coscoy
25432
122: Bioenergy
Melis
25436
C148: Microbial Genomics and Genetics
Taga
Brenner
25437
160: Plant Molecular Genetics
Loque
Fletcher
Vogel
25440
165: Plant-Microbe Interactions          
Baker
Lewis
Somerville
25443
C192: Molecular Approaches to Environmental Problem Solving
Staff
25444
200B: Genomics and Computational Biology
Freeling
25543
200C: Plant Diversity and Evolution
Blackman
25545
200F: Plant Systems Biology
Harmon
25547
205B: Introduction to Research
Zambryski
33636
220B Genomics and Compuational Biology
Grigoriev
25549
220C: Microbial Diversity and Evolution
Brem
25551
220F: Microbial Ecology
Lindow
25553
297: Grant Writing and Research Presentations
McCormick
See Department
 
PMB Courses Fall 2016
Below are the Plant and Microbial Biology Department courses offered for Fall 2016. Please note that this is not a complete list of all courses. Labs, discussions, seminars, and special courses are not listed. For a full listing of current courses in the PMB department visit schedule.berkeley.edu
For a detailed explanation and list of PMB courses and a by-semester schedule visit guide.berkeley.edu/courses/plantbi/
Course Name
Instructor
Course Number
Syllabus
10: Plants, Agriculture, and Society
Staskawicz
Zilberman
26189
 
22: Microbes Make the World Go Around
TBD
26182
 
24: Freshman Seminar
Feldman
26174
 
C96: Studying the Biological Sciences
Matsui
26047
 
C107L: Principles of Plant Morphology with Laboratory
 Specht
26064
 
C109: Evolution and Ecology of Development
Blackman
33908
link
C110L: Biology of Fungi with Laboratory
Bruns
Taylor
26065
 
C112: General Microbiology
Ryan
26175
 
PBM C112: Microbiology Lab
Traxler
 
 
C116: Microbial Diversity
Coates
26143
 
135: Physiology and Biochemistry of Plants
Melis
Terry
26099
link
150: Plant Cell Biology
Luan
Quail
26056
 
185: Techniques in Light Microscopy
Ruzin
26116
 
C192: Molecular Approaches to Environmental Problem Solving
Lindow
26017
 
200A: Plant Developmental Genetics
Hake
26186
 
200D: Plant Cell Biology
Luan
26105
 
200E: Plant Biochemistry
Scheller
26084
link
210: Scientific Reasoning and Logic
Quail
26169
 
C216: Microbial Diversity Workshop
Coates
26167
 
220A: Microbial Genetics
Taga
26054
 
220D: Cell Structure and Function
Komeili
26018
 
220E: Microbial Physiology
Coates
26023
 

PMB 290: Making Yourself Clear: How to Give an Engaging Science Talk;

Plant and Microbial Synthesis

Glaunsinger

Niyogi/Melis

 
 
375: Workshop on Teaching
Fischer
Kerfeld
26014