Taylor Narrates Introduction to the Department
Recent Article About Taylor's Research -- Bread mold genomes demo "reverse-ecology"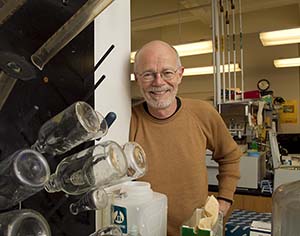 The Taylor Lab at UC Berkeley is devoted to cutting-edge research in fungal evolution. The lab started out by studying the pattern of evolution in terms of species and populations, and now has begun to study the process. The long term goal is to make fungi the best model for evolutionary biology.
To accomplish that goal, the lab focuses on the key evolutionary event that forms the tree of life -- speciation. Recently the lab has documented species divergences, compared phylogenetic and biological methods of species recognition, addressed the timing of species divergence, and evaluated selection acting on potentially adaptive genes.
Now the lab is using genetics and genomics to find genes that maintain species and facilitate adaptation.
Taylor is a professor in the department. He received his undergraduate degree in Biology from UC Berkeley, an M.S. in Botany and Ph.D. in Mycology from UC Davis. He joined the faculty at UC Berkeley in 1980. Taylor has served as President-Elect, President, and Past-President of the Mycological Society of America. He has served as Chair of the Division of Microbiology and Associate Chair of the Department of Plant and Microbial Biology at the University of California at Berkeley.
He has been awarded the Lucille George Medal of the International Association of Human and Animal Mycology, the Rhoda Benham Medal of the Medical Mycological Society of the Americas, and the Alexopoulos and Distinguished Mycologist Awards of the Mycological Society of America. He has received awards for excellence in teaching from the Mycological Society of America and the College of Natural Resources at Berkeley. He is a fellow of the Mycological Society of America, the California Academy of Science, the American Association for the Advancement of Science, and the American Academy of Microbiology.